Address:
Divine Word School of English
Moyglare Road
Maynooth W23 H2Y6
Co. Kildare
Ireland
Web:
www.dwse.org
Email:
office@dwse.org
Telephone:
+353 1 628 9512
Fax:
+353 1 628 9748
Welcome
The Divine Word School of English provides English language programmes for adult learners.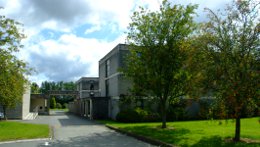 The school is based in Maynooth, 25 kilometres from Dublin. There are regular bus and rail connections between Maynooth and Dublin; the town is also within easy reach of Dublin International Airport(external link).
The Divine Word School of English is recognised by the Irish Department of Education and Science for the teaching of English as a Second Language. Though the majority of students are members of religious congregations and diocesan clergy, the school also welcomes lay people from a wide variety of backgrounds.
The average age of students is 28 and the minimum age accepted is 18. Throughout the year classes are offered at all levels from Elementary to Advanced. Preparation is also provided for Cambridge PET, FCE, IELTS and TOEIC.
For more information contact us today.